Hospital overview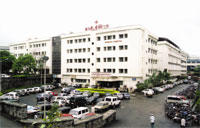 Bharati Hospital is a well-known centre of clinical excellence located in the same premises. It is a 856 bedded multi-specialty, tertiary care hospital providing modern diagnostic as well as therapeutic facilities. Housed in a well-planned multi-storied building having area of 3,35,500 sq.ft., it caters to the immediate vicinity area of 25 sq.km. and caters to the population of around 3,00,000 people.
All clinical departments are located in the hospital and have their respective OPDs. The wards and OPDs are well equipped with all facilities for teaching training and patient care. It provides good clinical material for teaching and training of under graduate and Post Graduate students.
Apart from the normal OPDs such as Medicine , Surgery, Orthopedics, Gynecology, Pediatrics etc. a number of specialty clinics like Neurology, Cardiology, Rheumatology, Nephrology, Gastroenterology, Endoscopy, Neurosurgery, Pediatric surgery, Plastic surgery, Breast clinic, Infertility clinic, Endocrinology clinic, Pediatric endocrinology, Pediatric nephrology, Pediatric genetics, Spine clinic, Sports medicine, Aesthetic dermatology, Geriatric clinic, De-addiction clinic, Child guidance centre etc. are also run in the hospital.
The administrative sections and record rooms are fully automated. Radiology and Orthopedics departments are linked with computer retrieval systems. The central clinical Laboratories of Hospital are well equipped with latest instruments like Fully Automated analyzers, ABG Machines, Hematology counters etc. 
Blood Bank is well equipped with additional facility for component storage.
There is a state of art OT complex located on the third floor of Hospital with 13 Operating Rooms. This ultra modern facility caters to General Surgery, Orthopaedics, and super specialties like neurosurgery, laparoscopic surgeries etc. All OTs are centrally air conditioned with AHU, HEPA filters multi-para monitors, and cardiac monitors and with all the modern gadgets for the patient safety. 
The facility of CCTV is available for demonstration of live operative procedures for students. The students can interact and get their queries answered by discussion with operating surgeon. 
The Hospital has well equipped critical care areas like the ICU, CCU, NICU and PICU facilities. Bharati Hospital is one of the few centers permitted by Govt. of Maharashtra to establish isolation ward for treating H1N1 cases in recent epidemic in Pune city. There is a separate Dialysis unit offering treatment to patients at very low cost. The Dept of Radio diagnosis offers modern diagnostic facilities like CT scan, MRI, Mammography, Color Doppler, Ultra-sonography etc.
Other facilities available in the hospital are central laundry unit, CSSD, Vermiculture Plant, Eye Bank, Ambulances, Canteen and Medical Store in subsidized rates.