Other facilities
Blood Bank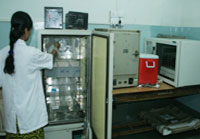 The hospital has a well equipped blood bank with a total area of 110 sq. m. with an additional facility for component storage & has been operating since 15 yrs.  It provides 24 hour emergency service. Blood donation camps are organized regularly. We have a large list of donors. We are in the process of establishing a new component separation laboratory.
Blood components available:
Whole blood
Packed cell volume(PCV)
Fresh frozen plasma(FFP)
Platelet concentrate
Pharmacy
A pharmacy is located in the hospital building which is open for 24 hrs. Here all medicines are available at subsidized rates.
Physiotherapy
The department has  well trained physiotherapists and following facilities are available:
Short Wave Diathermy
IFT
Cervical Traction
 Lumbar Traction
Ultrasound Therapy
Tens
Electrical muscle Steam water
CPM
Paraffin Wax Bath
Infra Red
Hostel Facilities:
Apart from the teaching and training facilities that are available in college and hospital there are other facilities like Separate Boys and Girls hostels for undergraduate students. There is a separate PG, Resident and Intern Hostel Facility in Hospital campus. There are two separate girls hostel with a total capacity of 145 rooms accommodating more than 370 girls. There are 970 rooms in boys hostel providing accommodation for about 290 students. All the resident doctors have been provided with well furnished shared accommodation. There are 104 rooms accommodating about 225 residents. There are hostels for nurses and working women with 50 rooms and providing accommodation to 150 nurses. All hostels are well furnished with recreational facilities of TV, Internet, and hygienic mess facilities. There is a separate play ground for outdoor games, gymnasium, and indoorgames. Other facilities like Banking with ATM facility,Book store and Medical store in college and Hospital are available.