Diagnostic Services
Central Clinical Laboratory
The Central Laboratory of Bharati Hospital is fully equipped with facilities required for Biochemistry , Pathology and Microbiology investigations.
The biochemistry section has state of the art equipments like :
ERBA MANNHEIM EM 360 fully automated biochemistry analyzer with facility for random access , onboard cooling and laundry and a high throughput.
Acid Base status analyzer ABL 800
Nycocard reader for glycosylated hemoglobin testing and for D – Dimer assay.
Sysmex coagulometer for PT / APTT testing
2 electrolyte analyzers :
i) Easylyte Na+ - K+ analyzer from MEDICA
ii) Electrolyte analyzer from Roche.
Fully automated hormone analyzer Alpha Lite based on chemi-luminescence principle.
Lab Services:
Various routine investigations like blood glucose, LFTs, RFTs, lipid profile, cardiac profile,Serum Electrolytes, Bone profile etc. and special tests like thyroid, Infertility, Tumour markers, Vitamin B12, Vitamin D, homocysteine are carried out in the laboratory with the help of state of the art, sophisticated instruments like automatedbiochemistry, CMIA,ABG, electrolyte, procalcitonin, Triage, HPLC for HbA1c analyzers etc. The department is affiliated with CMC Vellore for EQAS.
Research:
Research Laboratory is equipped with UV-VIS Spectrophotometer, Semi automated electrophoresis system, cooling centrifuge, chromatography apparatus etc.
The hematology section has 2 automated 3 part differential hematology analyzers (Sysmex KX 21) and one 5 part differential automated hematology analyzer (Sysmex XS 800i).
The laboratory also has MICROM HM 520 cryostat as well as cytocentrifuge machine (Cytotek).
Radiology
Department of Radiodiagnosis and Radioimaging is spread over 7500 sq. ft of the space with round the clock services. It has state of the art equipments such as:
MRI (Siemen's)
16 slice spiral C.T scan (Phillips)
Mammography
5 U.S.G machines out of which 3 have colour Doppler facility , one is 4D USG
3 X - Ray machines (500 A) with one having image intensifier facility.
Computed radiography.
5 portable X ray machines.
2D echo and colour Dopplers.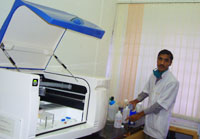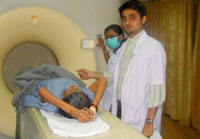 Dept. of Pathology
Aim: To provide pathology services of the highest standards
Objectives: To

enable transformation of PG students to good pathologists and researchers
maintain excellent quality in laboratory work in support of hospital services
provide excellent infrastructure, equipment and faculty for research

The functions of the Department are as under:

Clinical division for providing expertise on diagnostic support to Bharati Hospital
Dept of Transfusion Medicine for the hospital and training in transfusion medicine and immunohaematology.

The highlights of the Department are as under:

Round the clock laboratory services for patient care with a well-equipped advanced central laboratory.
Active participation in screening camps for cancer, antenatal problems and blood disorders.
Provision of modern equipment and infrastructure with automated haematology and coagulation analysers, ESR and urine analysers, cytocentrifuges and automation in histopathology.



HISTOPATHOLOGY GROSSING STATION


| | |
| --- | --- |
| CLINICAL PATHOLOGY LAB | CRYOSTAT |




AUTOMATION IN HAEMATOLOGY LAB

Developed subspecialties in immunohistochemistry for diagnostic, prognostic and predictive markers, HPLC for haemoglobin studies, Flow cytometry for acute leukemias and CD4 - CD8 counts and Cytogenetics for Karyotyping and FISH. A molecular lab has been established for Acute leukemia, Thalassemia, Haemophilia carrier detection.




ADVANCED TECHNIQUES WITH GELDOC AND HPLC

The Deptt further participates in activities as under:

The Dept of Pathology has been assessed and recommended by the NABL for accreditation in Histopathology, Haematology, Cytopathology and Clinical pathology.
The Hospital Blood Bank has been assessed by the NABH for Preaccreditation and recommended for the same.
The Histopathology dept contributes to the National Tumour Registry of ICMR
The Dept participates in EQAS programmes of Histopathology in AIIMS Delhi and TMH, Mumbai, Haematology of AIIMS Delhi and CMC Vellore and Cytology of Tata Memorial Hospital, Mumbai