Infrastructure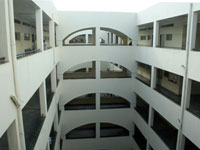 The institution provides excellent infrastructure for promoting overall growth and development of the students.
The buildings are constructed to provide all the basic amenities that are required for meaningful teaching and learning process .The total built up area of college is 2,55,000 sq.ft.The college building is a four storied, well illuminated and ventilated premises with big corridors and ample space.
The main administrative block is situated on the ground floor at the entrance of the college building. The fully furnished offices of Principal and Vice Principal are in the vicinity of the administrative block.
The administrative block & the academic sections of the college are fully computerized with 24 hours Internet facility.
There are 26 departments in the Medical College. The pre-clinical and para clinical departments are located in the college building. Each department has well furnished faculty rooms with separate space for departmental office and non-teaching staff. Departments have separate demonstration rooms, well equipped practical laboratories, museums, dissection halls to carry out teaching and training of Undergraduate and Post Graduate students.
Well-equipped Research Laboratories and an Animal House are available to carry out research in basic medical sciences.
For Academic activities the institute has 5 lecture halls, each admeasuring around 2000 sq ft. (Seating capacity of 180 students) with in-built acoustics and projection facilities including LCD projector.
Lecture Hall
Lecture Hall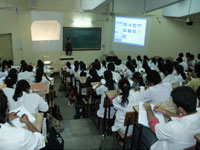 Air-conditioned conference halls are available for college council and other meetings.

Examination halls have a Seating Capacity for 375 candidates. There is a separate hall for the Central Assessment Programme (CAP) located in college building.

The Medical Education Technology Unit is located on the third floor of the college building. This unit provides basic and advanced training for teachers in the Medical College.
College Auditorium
College Auditorium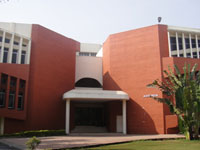 There are two centrally air conditioned auditoriums built to carry out the Co-Curricular and extracurricular activities like conferences, seminars, cultural programmes etc.
The departments are well equipped to support student learning and also have state of the art equipment like Fully Automated Chemi-luminescence, Immuno-hisochemistry, Teaching Microscopes, ELISA Facilities etc. to aid patient diagnosis and to update post graduate training in special fields like Endocrinology, Histopathology, Bacteriology, Immunology etc.
The college has a separate statistical unit for providing statistical assistance to all departments for their research projects.
The central Photographic cum Audiovisual Unit of the college is equipped with trained staff and facilities like Digital camera, Still Camera, Video Camera and Microphotography apparatus etc.